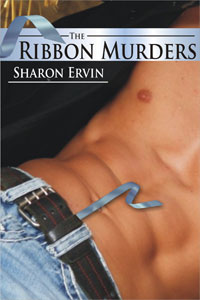 "Much of THE RIBBON MURDERS is written in first person from Jancy's point of view, but other parts are written in third person. The transitions are smooth and work well. Jim is a special kind of guy whom readers are sure to love, and he and Jancy are well-matched. The story is a gripping tale of a town tormented by dark deeds, but with determination and hard work, the lawman and the reporter work together to find the murderer. The secondary characters are excellent and enhance the story, especially the kindhearted sheriff, who has taken a liking to Jancy. The suspense heats up as well as the romance to make this an enjoyable read and one that readers will not want to miss."
Marilyn Heyman
Romance Reviews Today
---
Angie
LoveRomances.com Reviewer/Editor
Chippewa Publishing, LLC Editor
"THE RIBBON MURDERS by Ms. Ervin is such a fascinating book that the reader will not want to set it aside for anything, including eating and sleeping. This story is so good that the reader will want to take their time to savor the book then be unable to due to the need to see what occurs on the next page! The pacing of the story is as smooth as an aged brandy with a tone that ranges from terror to humor to tension to sexual tension between Jancy and Jim. Jancy and Jim prove the old saying that opposites attract. Jim is neat, organized and in total control of his life, that is until he meets Jancy. Jancy on the other hand could be called a slob. She is usually wearing whatever she could find on her floor and often forgets to comb her hair. However her powers of observation are astounding and Jancy has the ability to make friends where ever she goes. These two nevertheless are drawn together and compliment each other nicely; now onto their relationship.
---
"THE RIBBON MURDERS has to be one of the best romantic suspense novels that this reviewer has had the pleasure of reading in quite a long time. It is the perfect way to spend a winter afternoon for any lover of suspense. Run out and get your copy today! You are sure to not be disappointed."

Reviewed by Shaiha
January 2006
---
Dearreader.com begins its review with "Buy book:"

Reader comments regarding the first chapter:
This one hooked me! Very nice beginning. Looking forward to the rest.
--Nate

I've enjoyed what I have read so far and I'm looking forward to the next installment. I just love a good mystery!
June

I ENJOYED WHAT I HAVE READ SO FAR. I WOULD LIKE TO FIND OUT HOW THE MYSTERY ENDS. WAITING PATIENTLY .....
Gloria

I like the book so far. The style of writing is good. Nice detail without being wordy. I look forward to the next installment!
Rhonda

I really would like to finish this one. Cant wait to find out who did it. Thanks for a good read! Its true it really is good to read with good friends.
Rhonda