New!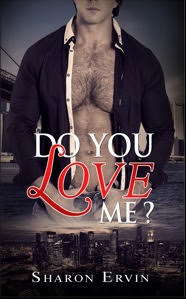 DO YOU LOVE ME?
Oak Tree Press and
|
Independent minded, CEO/socialite Savanna Cavendish, 32, is annoyed when she has to accept help from Pedro Rivera, 28, a haughty highway construction worker. Rivera repairs her car, then refuses to accept money for the work. She insists, Pedro, through an interpreter, suggests she can pay him by teaching him the speech and manners to make him a credible American businessman. Grudgingly, Savanna finally agrees to attempt to change Pedro, the emigrant, into Peter, the executive. As Peter changes, the chemistry between them quickens, and Savanna struggles to view Rivera as a project rather than a man. When women friends admire him, she feels unfamiliar twinges of jealousy. Eventually, Rivera prevails and Savanna succumbs to her regard for a man custom designed for her, by her.
ISBN: ISBN: 978-1-940758-68-8
See excerpt from DO YOU LOVE ME here
New!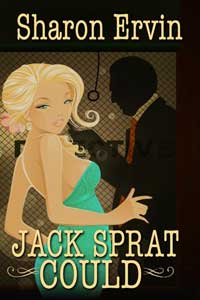 JACK SPRAT COULD
Published by The Wild Rose Press


Success has always come easy to socialite MaryBeth Gilland. Following her father's death, however, she needs an income. Gray Wheeler is president of Your Eyes Only Detective Agency, owned by MaryBeth's father's corporation. Wheeler has had it easy, too. Suddenly, he's got to make a profit to stay in business. Instant discord between Gilland and Wheeler masks the chemistry of their mutual attraction. He hires MaryBeth on the spot. Now he really needs to produce. Enter a client who claims her sister is being murdered. The victim is in a coma, but it's only a matter of time. The client insists her brother-in-law Leland "Jack" Sprat is to blame, and she'll pay big money to see him behind bars. It is time for MaryBeth to show she's more than just a pretty face and Wheeler to prove he can actually investigate, if they don't kill each other first.
ISBN: 1-5092-1591-3 / 978-1-5092-1591-1 (USA edition)
See excerpt from JACK SPRAT COULD here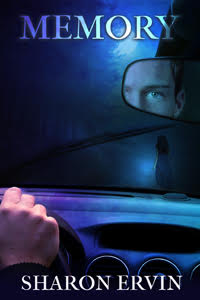 MEMORY

Published by The Wild Rose Press


A woman's mangled body found on the shoulder of a highway is mistakenly identified as Memory Smith. Was she murdered or the victim of a grisly hit-and-run? Baffled by initial reports, Assistant District Attorney David "Mac" McCann, knows exactly where Memory is, and it's not lying dead beside a highway. While they investigate rumors and subsequent foiled assaults on her person, Memory and Mac stumble across two other unsolved mysteries. The couple is further baffled as they get caught up in a little unexpected romance.

ISBN: 978-1-5092-1290-3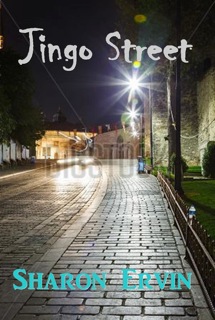 JINGO STREET
Published by Oak Tree Press and The Wild Rose Press


Sentenced to community service at the Jingo Street Soup Kitchen, new attorney Anne Krease, 24, sees a different view of life. The physical work in the soup kitchen is hard, but Anne admires the resilience of its patrons, particularly Rosco Marcowitz, her mentally deficient protector. Anne also likes Max, Rosco's brother, reputed to have murdered a man when he was eight years old. A volatile relationship develops between Anne and Max. Anne also sees America's throwaway attitude toward unwanted children, like the Marcowitz brothers, institutionalized, removed from the sight and minds of mainstream America. When Anne's life is threatened, Max kills the two gunsels, is arrested, convicted, and sentenced to die.
ISBN: 978-1-61009-133-6
See excerpt from JINGO STREET here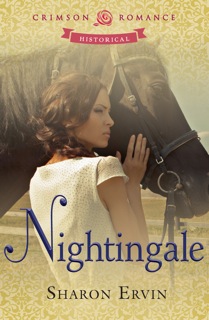 New book coming in August
NIGHTINGALE
Jessica Blair, 17, rescues a runaway stallion in a remote area of Great Britain in May, 1840. A scullery maid, Jessica is the very literate daughter of a deceased professor and is sole support of her ailing, widowed mother. Ignorant of the danger in handling an overwrought stallion, Jessica calms the runaway, then backtracks to find the animal's missing rider. She locates Devlin Miracle, 29, the arrogant Twelfth Duke of Fornay, cowering in the underbrush beside the road waiting for daylight. But for this nobleman, there will be no daylight. Injuries, inflicted by highwaymen, have left him blind.
ISBN-13: 9781440568107
Crimson Romance
See excerpt from JINGO STREET here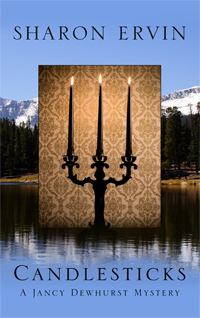 CANDLESTICKS
The third book in the Jancy Dewhurst series. The romance between Jim Wills and Jancy Dewhurst ripens into marriage. A familiar presence plagues their Rocky Mountain honeymoon as one heir to a fortune systematically murders beneficiaries in the Will of a wealthy woman who has bequeathed her entire estate to "those of my heirs who survive me." Curiosity piqued, Jancy insists Jim help track the killer.
ISBN: 978-1-59414-876-7
Five Star
See excerpt from CANDLESTICKS here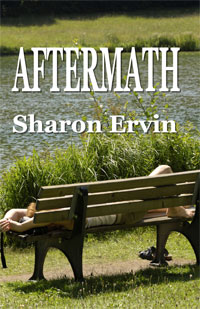 AFTERMATH
ISBN: 978-0-937660-11-9
Publisher: Deadly Niche Press
Ashamed of her responses to her kidnapper's erotic stimulation, newspaper reporter Anna Fulenweider, 24, refuses to discuss her 53-hour ordeal. Her friend, black newspaper photographer Wesley Stemmons, summons Joe Marsh, hoping Anna will accept help from the stranger credited with rescuing her by remote from 300 miles away, but creating a love triangle. Titillating, this is a romantic suspense.
See excerpt from AFTERMATH here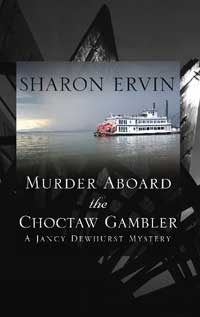 MURDER ABOARD THE CHOCTAW GAMBLER
Nosy about murder and by investigator Jim Wills, newspaper reporter Jancy Dewhurst pries too deep and has no clue that the lifethreatening accidents that dog her are not accidents at all. Wills recognizes the attempts against her and orders Jancy to stop meddling. Following her instincts, she blunders from one dangerous situation into another.
ISBN: 978-1-59414-698-5
Five Star Publishing
When a croupier is murdered on the Choctaw Gambler Riverboat Casino, State Bureau of Investigation Agent Jim Wills invites newspaper reporter Jancy Dewhurst to accompany him to the scene.

See excerpt from Murder Aboard The Choctaw Gambler here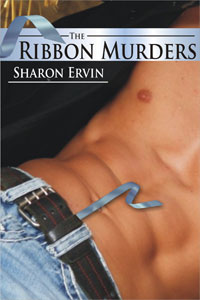 THE RIBBON MURDERS
Jancy Dewhurst, 23, a pushy, disheveled newspaper reporter, nervously attends her first homicide scene, and immediately locks horns with Jim Wills, 27, a natty cop who has no use for reporters meddling in an investigation. Observant, Jancy, sees details, but has no idea how they apply. Jim overlooks clues but, once informed, knows how they apply. Brainstorming leads to grudging regard and heightens the couple's growing attraction. Meanwhile the murderer with the peculiar ribbon signature continues killing. ISBN: 1-59414-436-2
March 2006
Five Star Expressions
Romantic Suspense
See excerpt from Ribbon Murders here
See reviews Ribbon Murders here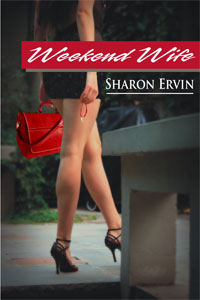 WEEKEND WIFE
From toddler to teen, Dianna Bratcher was in love with Greg O'Rourke, her brother Tom's best friend. Because the boys were seven years older, Dianna had to make heroic efforts to get their attention. It's been nine years since she's seen Greg when Tom asks her to travel to Dallas and pretend to be Greg's wife for a weekend to help close a business deal. Because (1) she has never been able to fall in love with anyone else, and (2) she is seriously contemplating marriage to Griffin Mayo, a prominent man in Twin Rivers, Kansas, and (3) because she believes she can withstand the O'Rourke mystique, Dianna takes the

ISBN: 1-41376-229-8

See excerpt from Weekend Wife here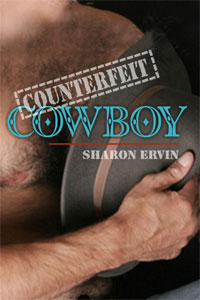 COUNTERFEIT COWBOY
Jilted, Chelly Bennett, 25, quits her holiday job, abandons her fourth semester of law school and runs to the city to work, vowing never to trust another man. In a new job, Chelly encounters Don Richards, a handsome office gofer in run-over cowboy boots. And she develops regard for D.R. Manning, the firm's perpetually absent named partner whose primary contact with the office is by e-mail. Coworkers laud Manning's genius but describe him as crotchety, which Chelly mistakenly translates as old. Chelly is captivated by both her cowboy and D.R. Manning before she discovers a deception that makes her ex's betrayal pale by comparison.

ISBN 1-4137-4955-0

See excerpt from Counterfeit Cowboy here

Now Available on Amazon Kindle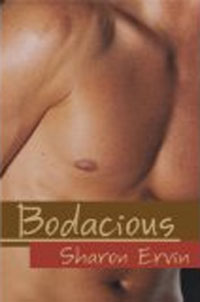 BODACIOUS,
Gifted and talented in many ways, Sara Loomis, 26, accepts her one glaring inadequacy: her sexual repression. Kidnapped during the robbery of a convenience store in the Ozark Mountains, Sara is terrified when her captors turn her over to Bo, a hairy mute mountain man they say will kill her humanely. While Bo does not murder Sara, neither does he return her to civilization, despite her pleas. Over 12 days, Sara grudgingly begins to appreciate Bo's primitive lifestyle. Gradually the unlikely maestro arouses passion in Sara, fueling her need to escape. In those attempts, Sara inadvertently puts herself in one life-threatening situation after another. It is Bo who saves her, from other predators as well as from herself.
ISBN 1-58851-494-3
See excerpt from Bodacious here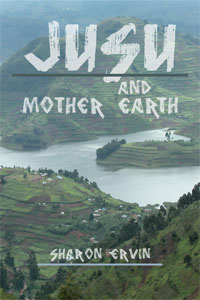 JUSU AND MOTHER EARTH
After five months of grieving, newly widowed Ruth Pedigo, 52, screws up her courage and sets out for Bwana, Uganda. Traveling alone, Ruth attracts the attention of Jack Standish, 45, who takes her under his wing when she is unexpectedly delayed in London. Ruth keeps their friendship platonic, archly denying the chemistry Jack insists is fomenting between them. When flights resume, Ruth continues her trip over Jack's objections. He vows to see her in Uganda. When he doesn't appear, she is disappointed to find no one knows him. Her curiosity does, however, produce lurid stories of Jusu (the magician), a local witch doctor so powerful, so feared, that his name is spoken only in whispers. Eventually Ruth is surprised by revelations about Jack, the people of Uganda, Jusu the witch doctor, and her own indomitable spirit.
ISBN 1-893162-87-7
See excerpt from Jusu and Mother Earth here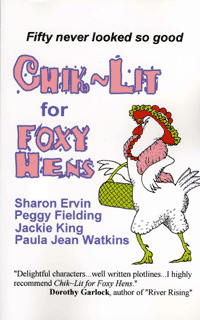 Chick b- Lit for Foxy Hens
Four novellas from four authors in one volume includes my contribution, ROSE. Jan Hartley grieves the inevitable death of her husband and dislikes the brute in run-over cowboy boots elbowing his way into her life. But Fisk Reed is a hard man to ignore.
ISBN 0-937660-75-2
"Four talented women writers have combined their life experience with their imaginations. Chick Lit for Foxy Hens is a cause for celebration."
—Teresa Miller author of Remnants of Glory and Family Correspondence

"Touching, funny, and insightful stories of second-time-around romance and adventure. Gals over forty will find themselves in these pages and have a rollicking good time!"
—Deborah Camp, magazine editor and romance novel author of more than 45 books

"This spicy mix of sexy treats hits the spot for us 'over-40' dames."
—Velda Brotherton, author
Order My Books

Additional Information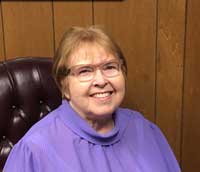 Former newspaper reporter Sharon Ervin has a degree in journalism from the University of Oklahoma Her work has appeared in Newsweek, The Harvard Review, Whispers From Heaven, Pray!, True Love, The PEO Record and Arabella magazines.